CHOOSE THE 2023 CHEF'S SPECIALTY RECIPE CONTEST FINALISTS
Along with a seated dinner and awards, Chef's Specialty also features a friendly competition between local chefs. Each chef has submitted a recipe which the community, attendees, and judges vote on. 
Browse the recipes below. When you're finished, click the button to vote for your favorite! The top three chefs will present bite-sized versions of their dishes to sample at the VIP Reception & Recipe Tasting. Attendees of the reception and a panel of judges will vote on the Top Chef and people's choice winners!
Want more information about Chef's Specialty or looking to purchase tickets? Click the button below!
Looking for something specific?
Click the names of the dishes or chefs to jump right to that recipe. You can also scroll down the page to see all of the delicious creations our guest chefs have to offer!
Chef Jacob Bandstra
Kent Career Technical Center
Lentil Birria Smash Tacos
Serves 6-8
For the Birria Sauce
8 cloves garlic, unpeeled
¼ c guajillo or ancho chili powder
½ tsp ground cumin
1 tsp freshly ground pepper
½ tsp dried oregano
1 Tbsp apple cider vinegar
15 oz can diced tomatoes
Pinch of salt
Pinch or sugar
For the Lentils
4 Tbsp olive oil
1 c lentils, green
½ large white onion, small diced
½ c Birria Sauce
2 ½ c water or vegetable stock
Handful of corn tortilla chips, crushed
For the Tacos
Medium tortillas, corn or flour
Vegetable oil
Diced white onion
Cilantro to taste
3 cups melty cheese (Mozzarella, Chihuahua, Oaxaca, Colby Jack, Monterey Jack)
Lime wedges
For the Birria Sauce
Cut a slit into each clove of garlic and place in microwaveable bowl. Cover with plastic wrap, poke holes in plastic and microwave for 30 seconds. Let cool and peel.
Place garlic cloves in food processor and pulse until evenly minced.
Add chili powder, cumin, pepper, oregano, cider vinegar, tomatoes, salt and sugar and pulse until still slightly chunky.
For the Lentils
Heat olive oil in medium pot, and add onions and lentils. Cook until onions are soft.
Add ½ c Birria Sauce and the water or stock. Bring to a boil and then reduce heat to a simmer. Cook for 20 minutes or until lentils are soft and have started to break apart.
Add crushed corn chips and stir to combine. Let cool before assembling.
For the Tacos
Heat extra Birria sauce in pot over low heat.
Place ¼ c cheese over tortilla and top with ½ c of prepared lentils to one side of tortilla. Sprinkle with onion and cilantro if desired.
Fold over and place in hot pan with oil. Cook until crispy on both sides.
Cut into three pieces. Serve with lime wedges and extra Birria sauce for dipping.
Maple Baked Local Fresh Fish (Whitefish) with Lentils and Mixed Veggies
Ingredients
4 to 6 oz local freshwater fish

5 oz Michigan maple syrup

Salt to taste

Black pepper to taste

Onion powder to taste

Garlic powder mix to taste

Lentils (black or red)

Mushroom or chicken stock

Watercress

¼ c honey

¼ c vinegar

Lemon juice

Your choice of oil

Sugar to taste

Seasonal vegetables

Sumac to taste
Bake whitefish with maple syrup and salt, pepper, onion, and garlic powder mix at 375°F for 7 to 8 minutes until it's cooked to the desired texture. 
Cut vegetables to desired size. Add salt and black pepper to taste. Roast at 375°F till tender, about 10 to 15 minutes. Cooking the veggies until there is good color will help add flavor to the dish. 
Wash and clean the watercress greens. Dry and set aside.
Combine honey, vinegar, and lemon juice. Season with choice salt, pepper, and sugar to taste. Mix with your choice of oil of choice to make a vinaigrette.
Toss watercress in the vinaigrette just before completing the dish so the watercress does not wilt.
Lentils cook like rice. Combine two parts mushroom or chicken stock with one part lentils. Cook until tender.
When constructing the dish, plate the lentils first. Then top that with the watercress salad, then roasted vegetables, and place the fish on top. Garnish with a little more maple syrup, salt, and/or pepper. Finish it off with a touch of sumac and enjoy.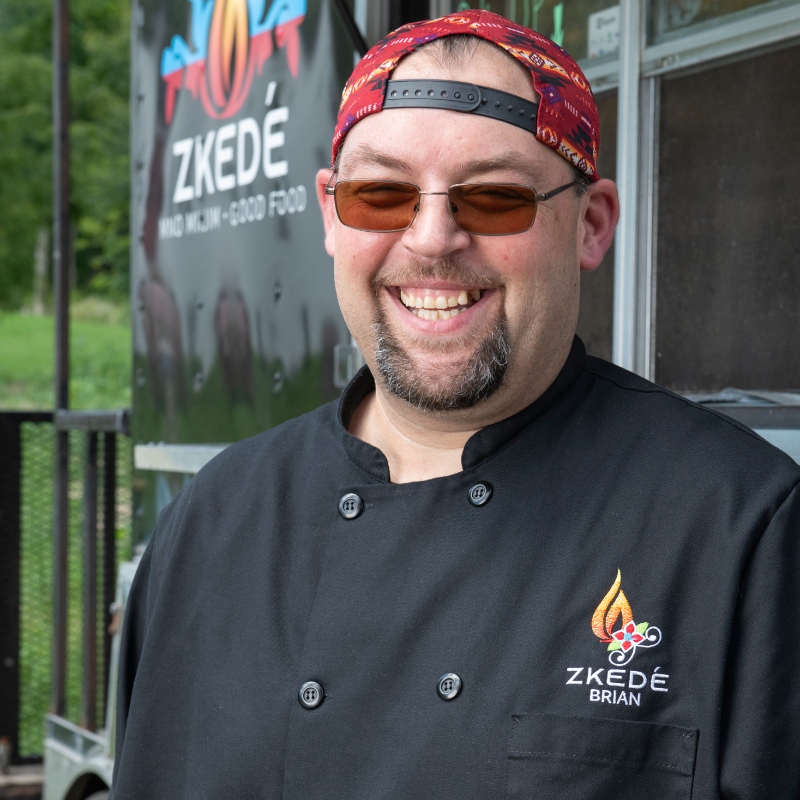 Chef Alex Ewigleben
Brass Ring Brewing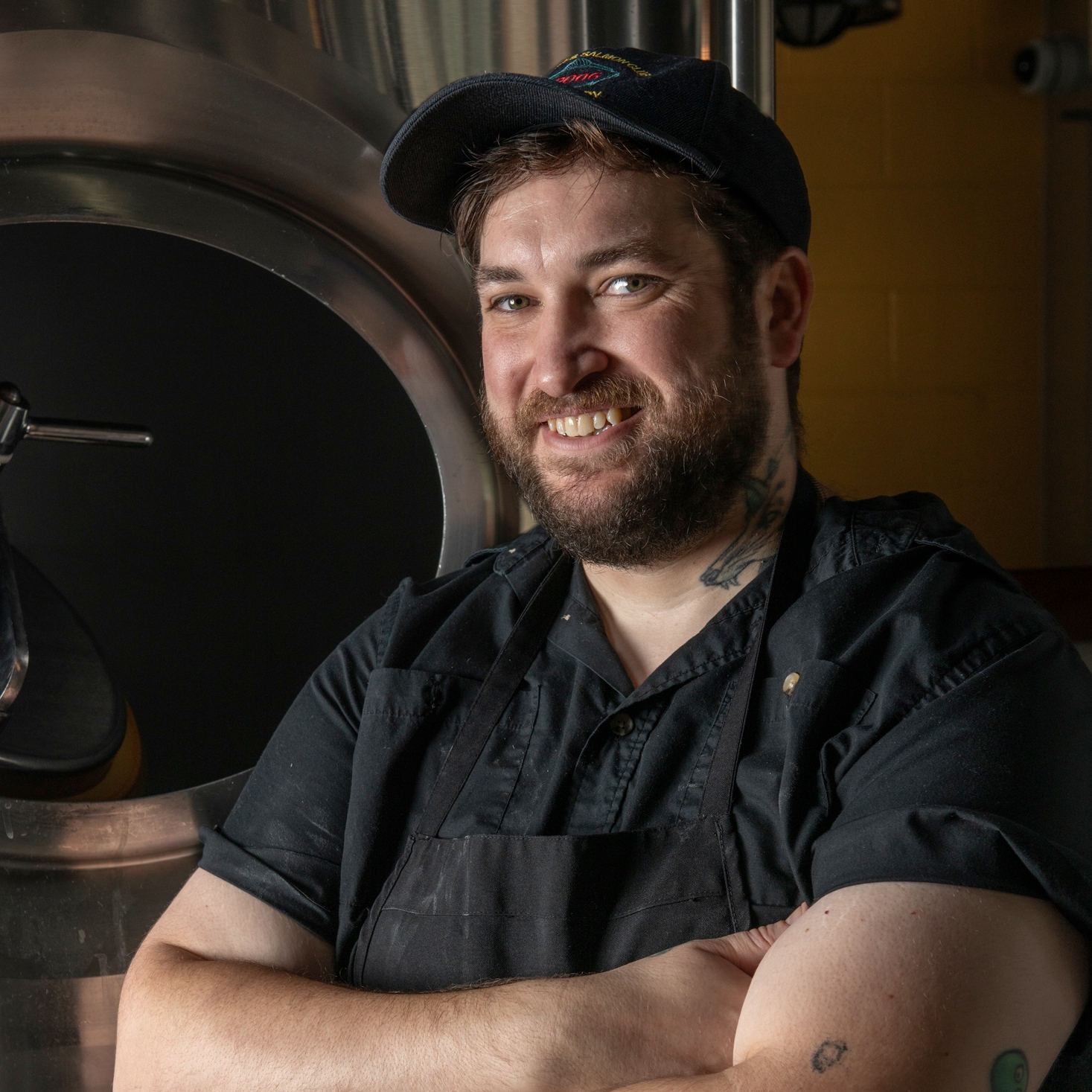 Curry Cauliflower Steak with Cilantro Yogurt and Pickled Red Onion
For Cauliflower Steak
1 large head cauliflower, cut into ¾ inch steaks
2 tsp garlic powder
1 tsp onion powder
3 Tbsp curry powder
2 tsp brown sugar
1 tsp salt
¼ cup olive oil
1 lemon, juiced
For Pickled Red Onion
1 red onion, julienned
1 c white vinegar
⅔ c water
⅓ c sugar
1 pinch salt
For Cilantro Yogurt
1 lime zest and juice
¼ c Greek yogurt
2 Tbsp chopped cilantro
For the Cauliflower Steak
Preheat oven to 425°F.
Mix garlic powder, onion powder, curry powder, brown sugar and salt in small bowl.
Toss cauliflower in lemon juice and olive oil.
Season both sides of cauliflower with curry mixture.
Sear cauliflower in cast iron pan, flip and put in oven for 8-12 minutes.
For Pickled Red Onion
Bring sugar, water, salt, and vinegar to a boil. Stir until sugar and salt are fully dissolved.
Pour over julienned onion.
Let cool
For Cilantro Yogurt
Mix all ingredients in small bowl
Serve with brown rice or any of your favorite sides!
Garden Gnocchi and Meatballs
For the Gnocchi
1

¼

c all purpose flour
2 cans cannellini beans (400g per can), rinsed and drained
1 egg

¼

 c olive oil

½

c fresh basil

½

c fresh spinach
For the Meatballs
2 slices bread, soaked in milk for 5 minutes
24 oz 85% lean ground turkey
1 egg

¼

c chopped parsley
3 Tbsp fresh oregano
2 Tbsp grated Parmesan
1 Tbsp salt

½

tsp black pepper

¼

tsp crushed red pepper
1 onion, minced
6 cloves garlic, minced
2 Tbsp olive oil
For the Sauce
5 lbs ripe tomatoes
1 tsp salt
2 Tbsp olive oil
1 Tbsp tomato paste
1 garlic clove, halved
1 basil sprig
1 bay leaf
For the Gnocchi
To make the gnocchi, place basil, spinach and cannellini beans in a food processor and pulse until combined.
Measure flour, egg, 1 Tbsp oil and 1 tsp salt in a stand mixer with the dough hook.
Work dough in the mixer for 5-6 minutes until a round ball forms. Enclose dough in plastic wrap and chill for 15 minutes.
On a smooth counter top, sprinkle some flour. With a bench scraper or knife, cut dough ball into 4 equal pieces. Work the dough into a rope shape, starting from the center and moving out towards the ends.
Cut the dough rope into 3⁄4 inch segments. Take the back of your fork and gently roll the gnocchi.
Blanch dough in salted boiling water until they float (roughly 5 minutes).
Quickly place dough in iced water and then strain.
For the Meatballs
In a mixing bowl, measure spices and herbs.
Mince garlic and onion. Mix well with ground turkey, bread, parmesan, and oil.
Using a small scoop, weigh meat and form 3 oz patties. Roll into balls.
Bake in the oven at 350 degrees for 10 minutes. Remove from the oven and strain oil.
For the Sauce
Cut tomatoes in half horizontally. Squeeze out the seeds and discard, if you wish.
Press the cut side of the tomato against the large holes of a box grater and grate tomato flesh into a
bowl. Discard skins. You should have about 4 cups.
Put tomato pulp in a low, wide saucepan over high heat. Add salt, olive oil, tomato paste, garlic, basil and bay leaf.
Bring to a boil, then lower heat to a brisk simmer.
Reduce the sauce by almost half, stirring occasionally, to produce about 2½ cups of medium-thick sauce (about 10 to 15 minutes). Taste and adjust salt.
To Prepare for Dinner
Now heat your meatballs in the Tomato sauce for 10 minutes.
In a saut

é

pan, drizzle 2 Tsp oil over medium heat.
Place gnocchi in a saut

é

pan and sear to golden brown. Add sauce and meatballs and simmer for 2 minutes.
Just before plating, add fresh arugula and basil. Garnish with Parmesan Cheese.
Chef Clark Frain
Terra GR
Chef
Amy Gafencu
Calvary Church
Primavera Risotto with Honey Lemon Salmon
For the Risotto
4 Tbsp olive oil

1 c diced red onion

2 c Arborio Rice

1 c white wine

8 c chicken stock

1 c parmesan cheese

4 Tbsp diced Cold butter

Salt and pepper to taste
For the Primavera Vegetables
1 c diced zucchini

1 c diced yellow squash

1 c asparagus, cut into ½ inch pieces

2 Tbsp minced garlic

2 Tbsp olive oil

½ tsp salt

½ tsp black pepper

2 c diced roma tomatoes

½ c chopped basil

1 Tbsp olive oil
For the Lemon Herb Salmon
4-6 servings of salmon filets

Salt 

Pepper

3 Tbsp lemon juice

Zest of 1 lemon

2 Tbsp honey

4 Tbsp olive oil

1 Tbsp finely chopped dill
For the Risotto
In a medium sized pot, gently heat up the oil along with the onions. Cook the onions on medium heat until they begin to turn translucent, about 10-15 min.
Add in the rice and cook for an additional 3-5 minutes or until the rice begins to golden slightly on the outside.
Deglaze the rice with the white wine and cook to evaporate all the wine.
Once the wine has evaporated, begin to add in the stock, 2 cups at a time. Stirring constantly, allow the stock to be completely absorbed between additions. Repeat until all the stock has been used.
Once the stock has all been absorbed, remove the risotto from the heat and add in the cold butter and parmesan cheese. Stir to incorporate well. Season with salt and pepper to taste.
For the Primavera Vegetables
Preheat the oven to 450 degrees.
Line a cookie sheet pan with parchment paper and set aside.
In a medium sized bowl, combine the zucchini, squash, asparagus, garlic, oil, salt, and pepper. Mix to coat all the vegetables with the seasoning.
Spread the vegetables onto the prepared sheet tray and roast in the oven for 10-15 minutes or until they become slightly golden brown.
Remove from oven and cool.
Combine the cooled roasted vegetables with the diced tomatoes, basil, and the additional olive oil.
For the Honey Lemon Salmon
Preheat oven to 450 degrees.
Line a cookie sheet pan with parchment paper, spray with nonstick spray, and set aside
Generously season the salmon (or any other type of fish desired) with salt and pepper, and arrange the filets on the prepared sheet tray.
In a small bowl, combine the remaining ingredients.
Spread about half of the marinade over the filets of salmon.
Roast in the oven for 8-10 minutes or until the internal temperature reaches 140-145 degrees.
Remove from the oven and dress the salmon with the remaining marinade.
Serve the salmon over the risotto that has been topped with the primavera vegetables.
Apple Cider Brined Chicken with White BBQ sauce
For the Brine
3 c water
2 c apple cider
1 c apple cider vinegar
2 bay leaves
5 sprigs fresh thyme
3 cloves fresh garlic, lightly crushed
½ c kosher salt
1 Tbsp black peppercorns
1 c brown sugar
For the Chicken
20 chicken thighs
Olive oil
Salt
Pepper
For the White BBQ Sauce
1 white onion
8 cloves garlic
Olive oil
5 Tbsp horseradish
3 Tbsp Dijon mustard
2 c white wine vinegar
3½ Tbsp Worcestershire sauce
½ c honey
4 c low or no sodium chicken stock
2 c heavy whipping cream
For the Mashed Potato with Cauliflower and Smoked White Cheddar Cheese
4 large russet potatoes
1 head of cauliflower
½ c sour cream
¼ c heavy whipping cream
4 Tbsp unsalted butter
3 garlic cloves, finely diced
Salt
Pepper
1 c shredded white cheddar cheese
For the Grilled Veggies
4 ears fresh corn
2 zucchini
1 pint grape tomatoes
1 garlic clove, minced finely
¼ c red onion, sliced thinly
½ c fresh basil, torn
Salt
Pepper
For the Brine
Add all ingredients to a stock pot. Bring to a boil.
Stir until salt and sugar are dissolved.
Pull off heat and add 6 cups ice to cool quickly.
For the Chicken
Poor brine over chicken thigh pieces. Allow chicken to sit in the brine overnight or up to 18 hours.
When ready to cook, discard brine and pat dry chicken.
Preheat oven to 275°F.
Brush chicken, skin side up, with olive oil. Lightly coat with salt and pepper (remember the brine adds a lot of seasoning to the chicken as it sits).
Place chicken thighs on a parchment lined sheet tray, covered with foil. Cook in oven for 1½ hours.
Remove foil. Increase temperature to 400°F and continue to cook for 20 to 30 minutes (keeping a close eye as the sugar in the brine will cause the skin to darken faster). Allow skin to crisp and brown
Remove from oven.
For the White BBQ Sauce
 Sauté onion and garlic in small amount of olive oil. Add horseradish, Dijon mustard, white wine vinegar, Worcestershire sauce, honey, and chicken stock.
Simmer till liquid is reduced by half, stirring frequently.
Add heavy whipping cream, and reduce by half again. Season with salt to taste.
For the Mashed Potato with Cauliflower and Smoked White Cheddar Cheese
Wash, peel and dice potatoes. Core and large dice cauliflower.
Boil both in well-seasoned water until soft enough to mash.
Add to mixer with sour cream, heavy whipping cream, unsalted butter, diced garlic cloves, and salt and pepper to taste. Mix all ingredients until smooth.
Remove from mixing bowl and fold in shredded smoked white cheddar cheese.
For the Grilled Veggies
Lightly oil and salt ears of corn on the cob. Quarter zucchini lengthwise.
Grill until lightly charred on all sides.
Shave corn kernels off and chop zucchini into one-inch pieces.
While you are grilling veggies, pan roast grape tomatoes until lightly blistered and splitting.
Add minced garlic, red onion, and fresh torn basil. Continue to roast until onions are cooked.
Combing all veggie ingredients. Add salt and pepper to taste.
Finish the dish with fresh chives and a drizzle of hot honey.
Chef Nick Kepford
Meals on Wheels Western Michigan
Chef Ryan McClure
Broad Leaf Brewery + Spirits – Westside
Summer Vegetable Fried Rice with homemade Chili Crunch & Sriracha Mayo
For the Spicy Mayo
1 c Kewpie Mayo or mayo of choice
2 Tbsp Sriracha sauce
For the Chili Crunch
1 onion
4-5 cloves garlic
1 knob ginger (about the size of thumb)
1 Tbsp MSG
½ c crushed red pepper
2 oz toasted sesame seeds
2 c neutral oil (grapeseed is a good choice)
For the Fried Rice
1 head broccoli
1 bunch scallions
1 bunch cilantro or herb of preference
2 medium carrots
1 bunch asparagus (approximately one half pound)
2 c cooked brown rice or white rice (cooked the day before and left to dry in your fridge overnight)
¼ c soy sauce
2 Tsbp rice wine vinegar
To begin this process, start by preheating your saut

é

pan of choice. I use a cast iron pan, but any high-heat saut

é

pan with do.
Let it heat slowly while you process your vegetables and start your chili crunch.
For the Spicy Mayo
Mix together mayo and Sriracha sauce. Set aside.
For the Chili Crunch
To start the chili crunch, thinly julienne your onion, slice garlic cloves (as thinly as possible), and mince ginger.
Combine sliced veggies with oil and put in a small or medium sauce pot. Turn on medium heat. Let it simmer slowly until the moisture evaporates from you vegetables and they begin to float and turn golden brown.
Once the garlic/onion/ginger mixture starts to turn color, mix in the remaining chili crunch ingredients and kill the heat. The residual heat should crisp up your veggie mix. If they start to over brown, strain the oil out and set veggie mixture aside to add back in once the oil has come down in temperature.
For the Fried Rice
While your chili crunch is simmering, start breaking down your broccoli, carrots, and asparagus. I like to rough chop the broccoli stems and split the big broccoli florets. Carrots can be cut to similar size of broccoli and asparagus into about 1-inch stalks.
Once your pan is hot, add grapeseed oil or a neutral oil of your choice (approx 1/4 c) and let the oil heat. Season your veggies with salt (and more MSG if you are so inclined) and start searing your carrots. Let them brown.
Remove your carrots and add your broccoli. Once your broccoli is browned add the carrots, rice, soy, rice wine vinegar and asparagus. The steam from the soy/rice wine vinegar mix should steam your raw asparagus while you cook the fried rice mixture.
I like to thinly slice my scallion tops into thing strips and shock with ice water to make little scallion curls to garnish with.
Swipe a little Spicy Mayo onto your plate. Plate your Veggie Fried Rice and cover with your homemade Chili Crunch, curly Scallions, and preferred herbs.
The great thing about the chili crunch is you'll have extra to put on whatever you like, and if you enjoy your chili crunch a little hotter, you can add more chiles. Tianjin or szechuan peppercorn would be a great addition.
If you prefer a more protein-based dinner, you can add tofu, egg, or any protein of choice to please your inner carnivore.
Thyme Cider Marinated Chicken with Winter Vegetable Hash
For the Brine
2 c apple cider

¼ c cider Vinegar

1 c water

8 sprigs thyme  

¼ each white onion, diced  

2 tsp salt

½ tsp pepper

2 c ice 
For the Chicken
1 each 3lb roasting chicken
For the Pan Sauce
½ c red wine (Pinot Noir works best)

2 c apple cider  

2 Tbsp corn starch

2 oz water

2 Tbsp unsalted butter, room temperature
Winter Vegetable and Farro Hash
1 c diced butternut squash
½ c diced sweet potato 
1 c diced carrot
½ c diced red beet 
1 c diced redskin potatoes, skin on
1 each medium diced white onion
2 sprigs minced fresh rosemary
6 sprigs fresh thyme, picked 
1 oz olive oil 
Kosher salt to taste
Black pepper to taste
1 c cooked farro
¼ bunch chopped fresh parsley
For the Brine
Place all ingredients except ice in saucepan and bring to simmer.
 Remove from heat and let stand for 30 minutes. 
Add ice and place in refrigerator for 20 minutes. 
In large container, place raw chicken.
Pour brine over chicken until completely submerged and let sit for minimum of 2 hours (better over night).
For the Chicken
Preheat oven to 375°F.
Remove chicken from brine and let sit for 10 minutes.
Place chicken in a cast iron pan or heavy-bottom, oven-safe pan.
Roast for 45 to 60 minutes, basting every 10 minutes with drippings. 
Checking internal temperature after 30 minutes. Internal temp must reach 165°F. Adjust cooking time as needed to reach safe temperature. 
Once chicken reaches 165°F in the thickest part of thigh and breast, remove and let rest for 10 minutes. 
Return pan to stove top over medium heat to make pan sauce.
For the Pan Sauce
Deglaze pan with red wine, stirring vigorously, until it reduces by half.
Add apple cider and bring to a boil.
In a small dish, combine corn starch and water to create a slurry.
Once apple cider comes to boil add half of the slurry slowly while stirring vigorously. 
Bring sauce to a simmer and check thickness. Repeat last step if you would like thicker sauce, adding half of the slurry at a time. 
Once desired thickness is achieved, let sauce simmer while stirring for 5 minutes to cook the starch out. 
Finish sauce for service by stirring in butter.
Drizzle over chicken or serve on the side.
For the Winter Vegetables and Faro
Pre heat oven to 375°F.
In a large bowl, combine diced vegetables, potatoes, thyme and rosemary. Do not add red beets and farro.
Place red beets in a small, separate bowl.
Drizzle each bowl with enough oil to coat the vegetables, and season with salt and pepper.
Place each bowls' contents onto separate sheet trays lined with parchment.
Roast at 375°F in the conventional oven for 20 minutes and then rotate and roast for another 20 minutes. Check after 10 minutes. 
Check for doneness. Vegetables should be al dente to the bite. If needed, put back in the oven for 5-minute increments until cooked to soft-but-firm texture. 
While vegetables are roasting, cook farro according to specifications on package. 
Mix vegetables blend, farro and parsley. Once mixed, fold in roasted beets and adjust seasoning.

Place on large serving platter under Cider Thyme Chicken or as its own side.
Chef Mick Rickerd
Corewell Health
Chef Jennifer Struik
Grand Rapids Community College
Jenny with the Good Eats
Carrot Fritters with Herb Yogurt
For the Fritters
½ c plain all-purpose flour (or panko or GF flour)
2 tsp ground cumin
2 tsp ground coriander 
3 garlic clove, crushed
¼ c chopped flat-leaf parsley
6 green onions, thinly sliced
4 eggs, lightly beaten
6 large carrots, peeled and grated
4 Tbsp olive oil
For the Herbed Yogurt Sauce
1 c yogurt plain full-fat, can also use whole Greek yogurt 
¼ tsp garlic powder
¼ tsp onion powder
¼ tsp salt
1 tsp dried thyme
1 tsp olive oil
1 tsp lime juice
For the Fritters
Combine flour, cumin, coriander, garlic, parsley and green onions in a large bowl. Add eggs. Mix well to combine.
Coarsely grate carrots. Use your hands to squeeze out as much excess moisture as possible. Add carrots to egg mixture. Season with salt and pepper.
Heat oil in a non-stick frying pan over medium heat. Add ¼ cup of batter per fritter to frying pan. Cook fritters in batches for 3 minutes each side, or until golden and cooked through.
Serve on top of yogurt sauce and enjoy! Serve with additional lime wedges and green onions.
For the Herbed Yogurt Sauce
Take a cup of yogurt and whisk it. 
Add garlic powder, onion powder, and thyme to the yogurt. 
Then add salt to taste along with a pinch of pepper. Add olive oil and lime juice. Whisk all the ingredients together until they become creamy.
Preheat the oven to 350°F.
Steam and separate the cabbage leaves using boiling water.
Cut off the rib on the back of the leaf to make them easier to roll. Set aside.
Prepare the bulgur as directed (typically 2 cups bulger to 4 cups of boiling water). Once the water is absorbed, set aside and let cool.
In a large pan, using olive oil, combine mushrooms, yellow pepper, orange pepper, onion and sauté till tender. Add salt and pepper to taste. Let mixture cool.
Lay out a cabbage leaf and spoon in approximately one tablespoon of filling. Fold the mixture into the cabbage leaf, roll forward, side to side, then forward again, kind of like a diaper on a baby.
Place in a baking dish or 9×13 pan in a single layer. Then use your scrap cabbage leaves in the corners and on top to protect your adorable little packages of love.
Pour crushed and stewed tomatoes over the rolls. Bake in oven for about an hour. This will soften the cabbage and let all the love of the ingredients become great friends to taste delicious.
Let cool and enjoy.
Chef
Laura Szczepanek
That Polish Girl Catering
Chef
Chris Vander Meer
Brewery Vivant
Grilled Pork Tenderloin Hash
For the Marinated Pork Tenderloin (Nuoc Cham)
5 Tbsp sugar
3 Tbsp water
5 Tbsp fish sauce (I use the BLiS brand)
4 oz lemon juice
1 garlic clove, minced
1 tsp red pepper flakes
1 medium shallot, minced
For the Green Veggies
Use whatever green veggies you'd like!
For this dish, I used broccoli, green beans, kale, peas, and zucchini. Here's how I cut them:

Broccoli: Cut to florets
Green Beans: Trim the ends and either cut in half or leave whole
Peas: Whole, of course
Kale: Remove and discard stems. Tear leaves to the size you like to eat.
Zucchini: If they're small enough, just cut rounds. If they're bigger, cut lengthwise first and then into half-moons.
For the Celeriac Puree
1 celery root (celeriac), peeled and cut into large chunks, about 12 oz
½ lemon, cut into wedges
2 bay leaves, whole
1¼ c pork or chicken stock
Kosher salt to taste
For the Pickled Mustard Seeds
2 oz yellow mustard seeds
6 oz white vinegar
2 Tbsp sugar
1½ tsp salt
Pinch red pepper flakes
Pinch turmeric
For the Marinated Pork
Whisk everything together in a non-reactive bowl.
Place pork in marinade and cover tightly with plastic wrap.
Marinate in fridge overnight, or up to 3 days.
For the Green Veggies
Ahead of time, blanch the broccoli and green beans, but keep the kale, peas, and zuke raw. Blanching is a very quick process so you want  to be set up for it first.
Bring a pot of water to a boil (make sure the pot is big enough to hold the quantity of veggies you have).
Add enough salt to the water so that it tastes like sea water.
Find a container big enough to hold your veggies and fill it with ice water. (It should be about equal parts ice and water so it stays cold when you put your hot veggies in it).
Have a slotted spoon or strainer available. When the water is at an intense rolling boil, drop in your broccoli and greens beans for about 20 seconds.
Quickly remove the veggies after 20 seconds and place them in the ice water to fully cool. Leave them there for at least 5 minutes and give them an occasional stir.
Strain and reserve.
For the Celeriac Puree
Preheat oven to 325°F.
Shape a sheet of foil into a bowl and put in the celeriac chunks, lemon wedges, bay leaves, and ½ cup of the stock.
Sprinkle in some salt and wrap the foil tightly at the top so the stock doesn't leak out. 
Place the foil package in an ovenproof pan in case the stock does leak out.
Cook this in the oven for approximately 45 min, or until the celeriac is fork tender.
Discard the lemon and bay leaves, but save the liquid!
In a blender, puree the celeriac, stock from the foil, and remaining stock until it is very smooth.
Taste it and add more salt if necessary.
Cool and set aside.
For the Pickled Mustard Seed
In a pot of boiling water, cook the mustard seeds for 4-5 minutes. Strain and discard water.
Place boiled seeds in a bowl and set aside.
In a pot, add the remaining ingredients and bring to a boil. Whisk to combine everything.
Pour hot liquid over the mustard seeds and set aside.
Allow to cool to room temp before covering/storing.
Putting the Dish Together
Get your grill nice and hot. Take the pork out of the marinade and lightly salt it. Do NOT rinse or pat dry!
Char that baby on the grill so it has good, dark color and is about medium/medium well, maybe 3 minutes or so per side.
Make sure you rest your meat for 2-3 minutes before cutting it!
In a

sauté

pan over high heat, add a touch of grapeseed oil (1 Tbsp or so) to the pan and the veggies you have prepped. Add a bit of salt and pepper to your veggies in the pan while they're cooking. I like a bit of caramelization on mine, so I keep the pan quite hot and toss/stir them a lot.
When they're almost done, add an ounce or two of the celeriac puree to the veggies in the pan and stir that in so it is evenly incorporated. The veggies should have a light, even coat of the puree and not clumps of it in there.
Turn off the flame and toss your toasted almonds into the veggies. Don't add a ton of almonds, but enough to add some crunch and nuttiness, maybe an ounce of almonds.
To Plate
Place your veggies down in a shallow bowl 
Slice the pork and lay over top of the veggies.
Strain out the liquid from the mustard seeds (and save it to store any unused seeds in).
Sprinkle the pickled seeds over the veggies to add a bright flavor to the dish.
4-5 oz extra virgin olive oil
3-4 lb whole chicken, cut into pieces
1 Spanish onion, sliced thin
10 oz oyster mushrooms, whole
10 garlic cloves, smashed
2 oz brandy
6 oz white wine
3 c chicken stock
2 tsp Dijon mustard
2 bay leaves
5 oz heavy cream
2 sprigs oregano, fresh
1 lb marble potatoes
8 oz haricot verts (green beans), trimmed
Salt to taste
Black pepper to taste
In a wide rimmed pan or rondeau pan placed over high heat, drizzle the extra virgin olive oil let the oil come up to temperature. Carefully place the seasoned chicken, skin side down. Allow the chicken to develop a rich golden-brown color on all sides, taking approximately 15 minutes. Once done, transfer the chicken to a separate dish and set it aside, ensuring it remains moist and flavorful.
Now, it's time to introduce the finely sliced onion, garlic, and mushrooms, allowing them to sauté and develop a deep caramelization for about 15 minutes. This step is crucial for enhancing the taste profile of the dish.
Once the onion, garlic, and mushrooms have achieved the desired caramelization, it's time to add the marble potatoes, bay leaves, fresh oregano, and reintroduce the chicken to the pan. Elevate the flavors even further by carefully flambéing the ingredients by adding the brandy and white wine.
Pour in the chicken stock, add the Dijon mustard to provide a subtle tangy note. Cover the pan with a parchment paper top or a "cartouche." Allow the dish to simmer on low heat for 20 minutes, allowing the flavors to meld.
Just before serving, introduce a touch of richness by pouring in the cream and adding vibrant haricot verts or green beans. Give the ingredients a gentle stir, allowing them to mingle and infuse the dish. Let the mixture simmer for a final 5 minutes, creating a harmonious marriage of textures and tastes.
Chef Stephan VanHeulen
MDRD
Vote for your Favorite Recipe!
Just click the link below and fill out the quick survey to submit your choice.