We've learned to never underestimate the power of a good meal. Our Home Delivered Meals are developed by our Registered Dietician, prepared in our Grandville kitchen, and delivered by volunteers to eligible seniors in Allegan and Kent Counties. Over the years, we've been able to see the huge difference this can make in a senior's life. After all, there's a reason we're called Meals on Wheels.
Our Home Delivered Meals Program is designed to be a convenient way for seniors in need to get nutritious, delicious meals. Check out the steps to see how it works!
Types of Home Delivered Meals
No two seniors are alike. That's why we offer a wide range of meal types to address concerns like difficulty chewing, dietary restrictions, and food preferences.
Frozen meals are delivered ready to heat in a microwave or oven to enjoy! These meals typically contain an entrée, two vegetables, a grain, fruit, and milk. Each meal comes with heating instructions. For best results, we recommend letting them thaw in the refrigerator overnight first. Most of our frozen meals can come pre-cut for seniors who may have a hard time using a knife and fork to slice their food.
Most people enjoy choosing their meals. With our Choice Meals, clients can pick the frozen meals they'd like from a menu. It's a great solution for those who have limitations due to personal, cultural, religious, or medical reasons. It's also a great plan for anyone who simply wants a little bit more control over their meals. Each meal is available in multiple quantities and is listed in our menu alongside its nutritional information.
Minced & Moist or Pureed Meals
Minced & Moist or Pureed Meals are designed to be convenient meals for those who may have difficulty chewing or swallowing.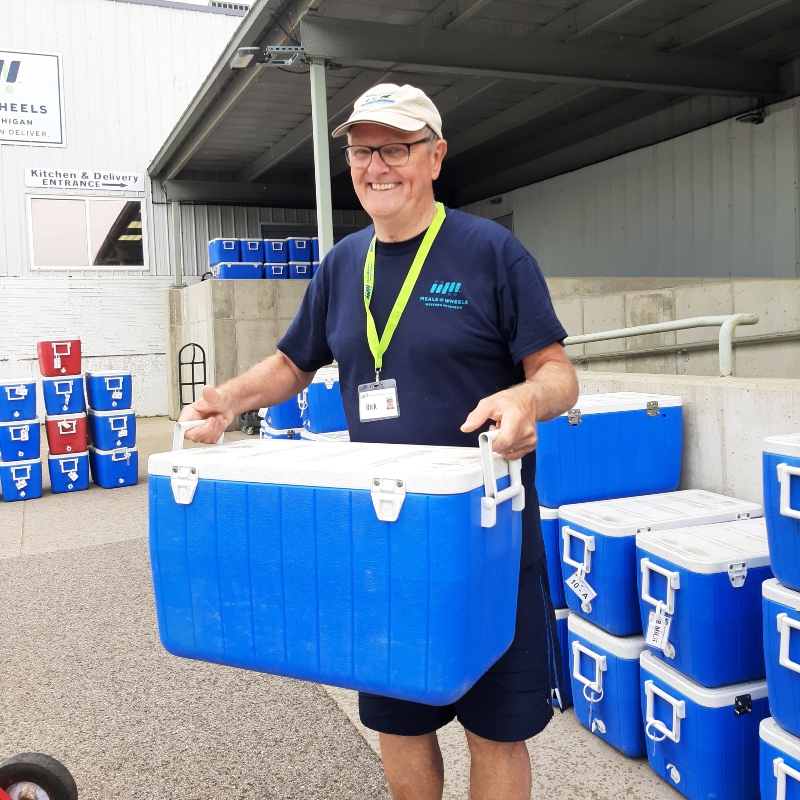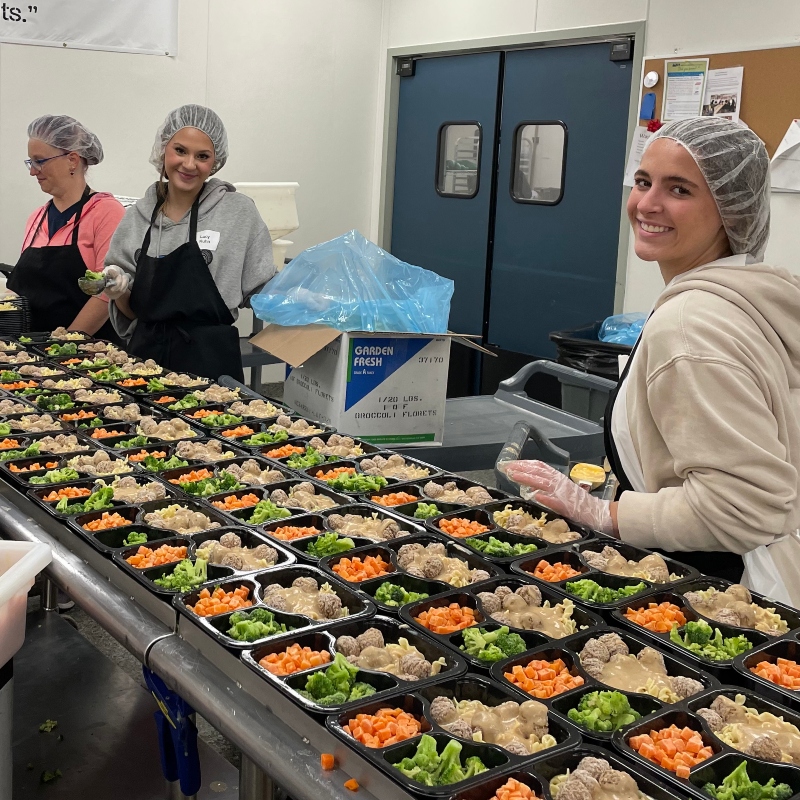 Cold meals are delivered refrigerated and should be consumed soon after they arrive. These meals normally contain a sandwich or salad, along with a variety of fruits and vegetables.
Frequently Asked Questions
How do I sign up for Home Delivered Meals?
How do I qualify for Home Delivered Meals?
To qualify for Home Delivered Meals and other MOWWM services, seniors must meet the following requirements:
They must be 60 or older.
They must live in Kent or Allegan County.
They must be considered "homebound." Homebound means that seniors must have difficulty leaving their home unassisted on a regular basis.
They must also have difficulty preparing meals and/or grocery shopping independently.
They must be home for meal delivery or make arrangements ahead of time.
Seniors must also:
Be home or ensure someone else is home to accept their meals on a regular basis. If there is a reason why someone will not be able to accept the meal when it's delivered, let us know ahead of time. You can call us at (616) 459-3111.
Meet with a Care Coordinator inside the senior's home within two weeks of starting services and then every six months after that.
Sign our consent form and food allergy waiver once a year.
How much do Home Delivered Meals cost?
If a senior meets the eligibility requirements, their Home Delivered Meals are provided on a donation basis. We send a monthly donation statement with a suggested amount of $3.50 per meal. MOWWM asks all participants to simply give what they can, when they can, and if they can. All donations are used to provide additional meals and help us serve those who need us. No eligible senior is denied meals if they are unable to contribute financially.
How can I donate if I'm able to?
We accept donations via check, credit card, and Bridge card (a.k.a. food stamps). You can click here to visit our client donation portal.
You're also welcome to mail a check to our office at:
Meals on Wheels Western Michigan
2900 Wilson Ave. SW
Suite 500
Grandville, MI 49418
Donations can also be made over the phone by calling us at (616) 459-3111.
Will my service be stopped if I can't afford to donate?
No! We'll never stop service if you can't afford to donate. Remember, we operate on a "give what you can, when you can, if you can" basis. We encourage all meal recipients to stay in the program if it's helpful for them, even if they aren't able to donate.
Can I receive Home Delivered Meals on a temporary basis?
Yes! We're happy to provide Home Delivered Meals temporarily when they're needed. Previous clients have utilized our services while recovering after surgery, while a caregiver might not be available, during the winter when mobility is impacted, and during other similar scenarios. We just ask that you let us know as soon as you can (preferably at least one week in advance) so we can make sure to properly reassign your driver when you stop services!
How can I stop receiving Home Delivered Meals?
If you're already a client and you'd like to stop or change your service, you can give our team a call at (616) 459-3111. We respond to calls in the order they're received.
Who do I contact if I have a concern or question about my Home Delivered Meals?
If you have a concern or question about your Home Delivered Meals, please call us at (616) 459-3111. We respond to calls in the order they're received.
When are meals delivered?
Our meals are typically delivered Monday, Wednesday, and Friday between 8 am-1 pm. When a holiday falls on a delivery day, we'll announce an alternate delivery time to our clients in advance.
Do you deliver every day of the week?
No. Our delivery days change based on the location. Most routes are delivered on Monday, Wednesday, and Friday. That means if a client is set to receive seven meals in one week, they'll get two on Monday, two on Wednesday, and three on Friday. There are some parts of our service area that only receive one delivery per week. In those cases, all meals for the week are delivered at the same time. Our team will let you know what the delivery schedule is for your area so you can be ready!
What should I do if I can't be home for my delivery?
We understand that life changes quickly! We just ask you to call us at (616) 459-3111 and let us know with as much advance notice as possible. Our team can be pretty flexible if given at least two business days' notice. While we cannot leave meals outside of your home in a cooler, we may be able to deliver them to a neighbor's home or put the meals away for you.
Please direct all requests to our team by calling (616) 459-3111 instead of asking your driver.
What if I miss a delivery and forget to notify you?
If no one answers unexpectedly when we come to deliver, we'll try to reach you or your emergency contacts to make sure you're safe. We also won't leave any meals behind. Those meals can't be replaced, so please make arrangements ahead of time if you're not going to be home. You can let our team know if you'll be unable to accept your delivery by calling us at (616) 459-3111.
What types of meals do you offer?
Do you offer special meal plans for people with dietary restrictions due to conditions like diabetes, heart disease, etc.?
While we don't offer specific plans for medical conditions, our Choice Meals include nutritional information next to each menu option. This includes information about calories, protein, carbohydrates, sodium, and other nutrients so clients can choose meals that are best suited for their individual dietary needs. Our Registered Dietitian is also available to provide counseling on what meals best suit your needs and preferences. You can see our current Choice Meal Program menu by visiting this page.
Do you have meal options for seniors who have difficulty chewing, swallowing, or cutting their food?
We do! MOWWM offers three types of meals to address these challenges. They include:
Cut Meals – These come precut for those who may have difficulty using a fork and knife to slice their food.
Minced & Moist Meals – These meals come ground for those who may have difficulty chewing their food.
Pureed Meals – These meals come pureed for those who may have difficulty swallowing their food.
Do you provide liquid nutritional supplement options?
What if I don't like certain foods?
Everyone has their own preferences! That's why our Choice Meals let clients choose specific meals to fit their personal tastes.
I can't eat certain foods due to my religion or personal creed. Is there an option for me?
There is! Our Choice Meals are designed to let each client pick the meals they'd like to receive, which means you can select options that fit your needs.
What if I have food allergies?
We are not currently able to accommodate meals for those with severe food allergies or intolerances.
Do I need a microwave to reheat frozen Home Delivered Meals?
No! Each frozen meal comes with heating instructions for both microwaves and conventional ovens. We don't recommend using a toaster oven to reheat your food. However, if you do not have a microwave, let us know when you call! We may be able to supply you with one through our microwave donation program.