Volunteering as a group is a great way to impact your community while volunteering with people you know. We work with a variety of groups, from organizations to schools and even large groups of friends. By working together to support local seniors, your group can make a positive impact while creating lasting memories. The MOWWM team can work with schools and organizations to develop customized engagement plans with volunteer opportunities, tours, and more. Your support helps us ensure that no senior goes hungry or forgotten.
Group Volunteer Opportunities
Listed below you will find many of the opportunities we currently offer. We welcome any additional ideas you may have to show your support and give back to the seniors of Kent County and Allegan County.
For more information, please contact our Volunteer Department at volunteer@mowwm.org or call (616) 459-3111.
Your team can help plate meals. It's a great way to support feeding our senior clients.
Available: Monday-Friday between 8am-12pm
Time commitment: 1-3 hours
Ideal group size: 5-10 people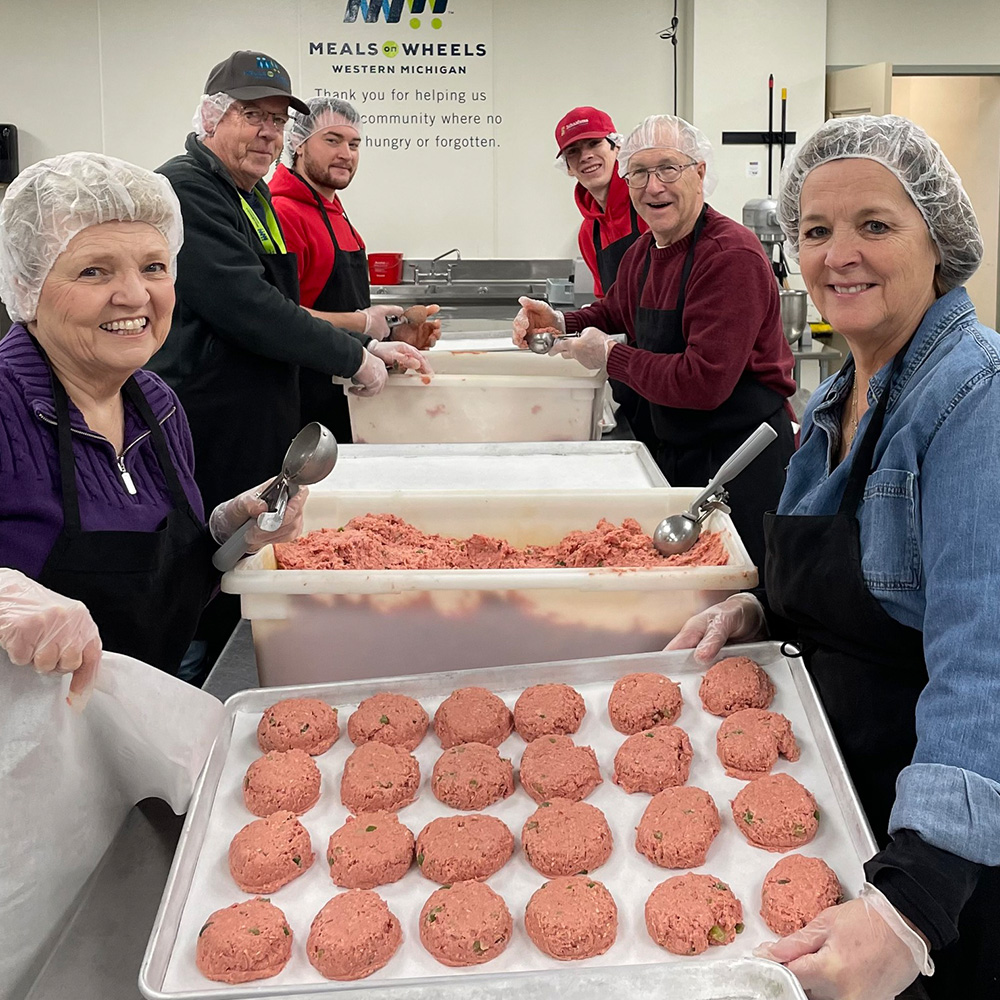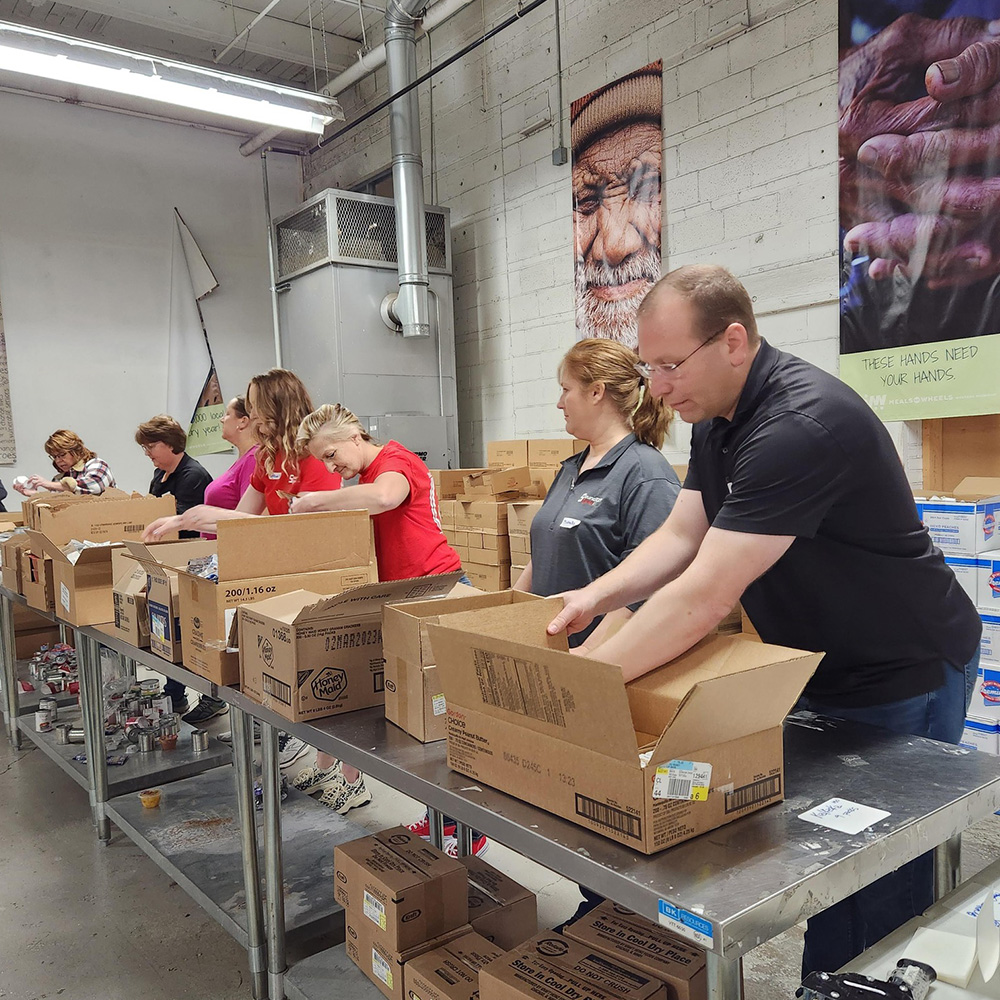 Help us assemble emergency boxes of shelf-stable food for our seniors. We compile these boxes during fall and winter so our homebound clients will have something to eat in case inclement weather stops us from being able to deliver their meals.
Available: Monday – Friday from 9-11 or 1-3 from October-late winter
Time Commitment: 1-3 hours
Ages: 18+ or 12+ if accompanied by a participating chaperone
Ideal group size: 5+ people

School groups should be ages 15+ with 1-3 adult chaperones

This opportunity is only available starting in October each year through late winter. If you're curious whether or not we're currently looking for volunteers, please contact our volunteer department at volunteer@mowwm.org or call (616) 459-3111.
MOWWM hosts several events every year, which means there's always something exciting around the corner. Your team can help by volunteering to work registration, manage tables, hand out water bottles, and more. Contact our Volunteer Manager to learn more about our upcoming events and find an option that works for you! You can reach us at (616) 459-3111 ext. 142 or by clicking the button below.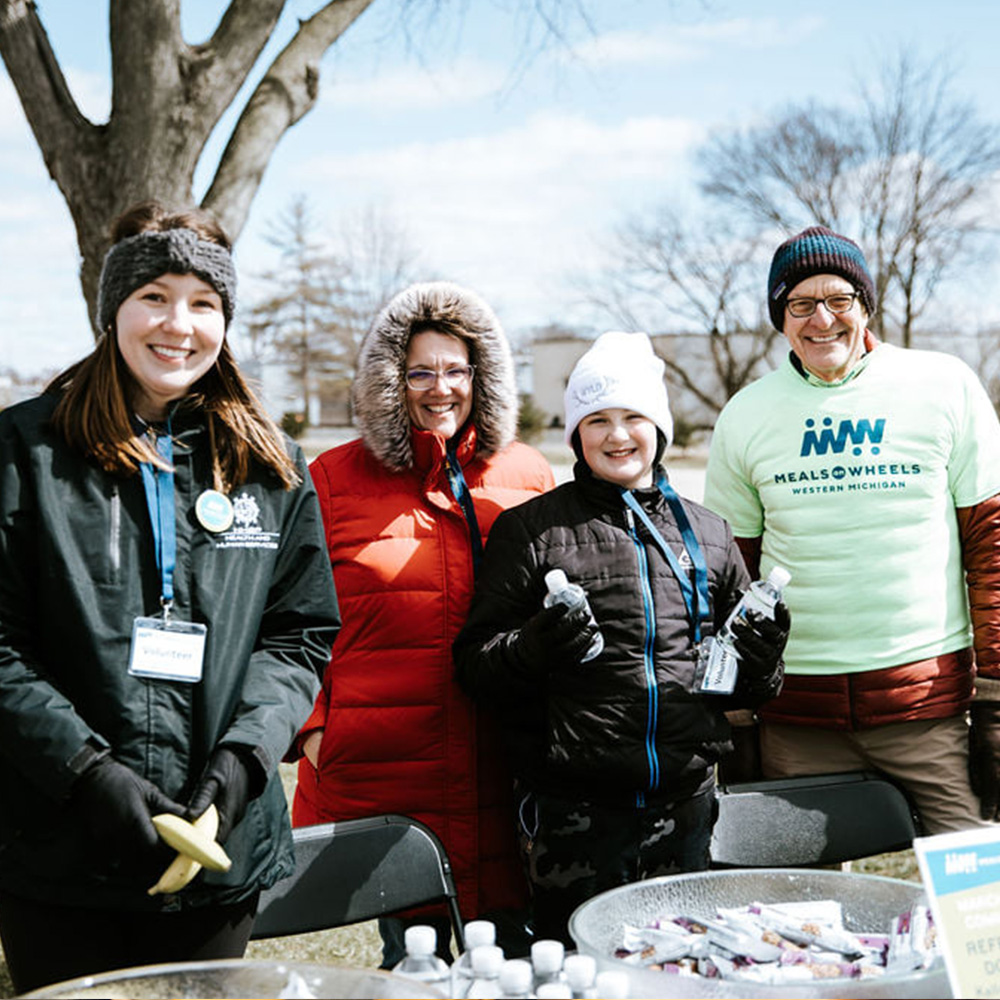 Apply to Volunteer as a Group
Ready to get started? Get in touch with our team by filling out our online group volunteer application or by contacting our Volunteer Department at (616) 459-3111.
Looking for other ways to support our work? We offer a variety of corporate sponsorship options, from single-event support to year-round partnerships. Organizations can also host fundraisers or advocate for change without our government. Click the buttons below to learn more. 
Are there any specific training or qualifications required to volunteer at Meals on Wheels Western Michigan?
Delivery drivers will go through orientation on their first day before they receive a route to follow. All volunteers are required to complete a volunteer application and pass a background check prior to volunteering in any role.
What types of groups can volunteer?
Our volunteer groups have included everything from companies to classes, small groups, and more. We ask that all groups be at least high-school age or older.
Do we need to wear anything special when we show up to volunteer?
We recommend wearing comfortable clothing with sturdy shoes. You may also want to wear layers, since a lot of volunteer work requires going in and out of our freezers.
Do you take walk-in volunteer groups or do we need to call ahead?
No, we do not accept walk-in volunteers. Because we require all volunteers to complete an application and pass a background check, we ask that you call ahead if you wish to volunteer on short notice.
I'm a teacher or student who would like my class to volunteer with MOWWM. What should I do?
How far in advance should we reserve our volunteer time?
Please plan to reserve your volunteer time at least 2-3 weeks in advance.
My group reserved a date/time to volunteer, but now we can't make it. What should we do?
GROUP VOLUNTEER APPLICATION